Arthrostim
Modesto chiropractor uses Arthrostim adjusting to make great Improvements and talk to the brain

​The Arthrostim is an adjusting instrument that is an alternative to manual adjustments. Instrument-assisted adjustments 'talk' to the brain, it enables a doctor to produce various types of mechanoreceptor input that can be difficult or impossible, to produce by hands only.
By delivering a 12-14 hertz impulse, the ArthroStim divides the energy of a single chiropractic adjustment into "rapid successive inputs." In this way, the ArthroStim maintains a consistent peak force, allowing the doctor to administer a more comfortable, effective adjustment. This is touted as the secret of the instrument. The total impulse of a chiropractic adjustment is divided into equal, smaller impulses known cumulatively as the "controlled repetitive input." This leads to an aggregate effect on neural receptors and extensive neurological feedback to the brain while simultaneously using a greatly reduced single impulse. Thus, the ArthroStim, with its less forceful method stimulates only mechano- and proprio-receptors without activating pain receptors. This is known as a "neurological assist" technique and allows the practitioner to manage and treat more conditions than he/she could with a more traditional chiropractic approach. Because the ArthroStim does not use a single, forceful thrust, larger and stiffer individuals can be more safely adjusted.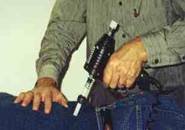 Different patients require different amounts of input (e.g., time and force combinations) in order to produce effective, long-lasting changes. One of the most important skills a doctor can develop is the ability to tailor the intensity of applied forces to meet the needs of individual patients.
Using ArthroStim precision stimulation, the Doctors at Advanced Spine & Injury Care are able to pinpoint exact trouble spots with the right amount of energy. Other notable benefits include a non-invasive instrument that provides quick and often dramatic results. The rapid motion supersaturates the target area with specific adjustive energy. Patients frequently notice a positive difference with the first treatment. This therapy gives Advanced Spine & Injury Care the high tech approach that you need for a better and faster recovery.
Video "What is ArthroStim"
Video "ArthroStim in Action"